Coastal areas are complex environments, and their evolution is subject to interactions between various physical, chemical, biological and human factors. The PAMELi marine drone is born from the need for repeated, co-located and simultaneous observations in different disciplines, and the need for reliable archive and easy access over time of these different observations.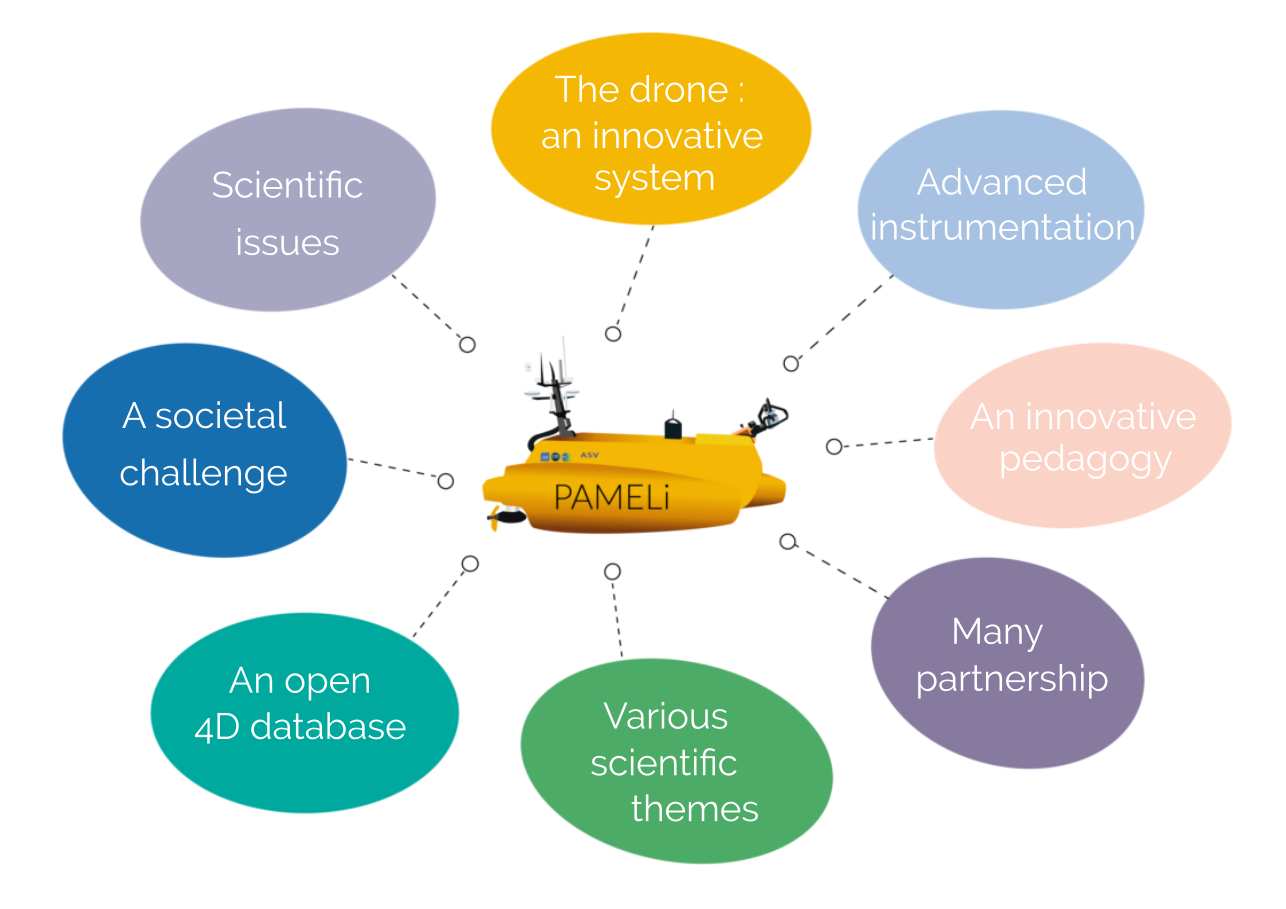 Scientific issues
The coastline: A complex dynamic system, whose understanding requires an interdisciplinary approach
Land-sea interface, sensitive area: a balanced socio-ecosystem threatened by climate change and increasing anthropogenic pressure on coastlines
Land-sea continuum: some processes, those that take place in the depths of the earth, do not stop at the coastline... you have to be able to observe underwater as you observe on land.
From space to the seabed
An innovative system: the drone
Autonomous and intelligent navigation
Multisensors
Mutualisation
Automation
Advanced instrumentation
Cyclopée system for sea-surface mapping
Multi-parameter probe
Water Withdrawal
Bathymetry
Remote-controlled winch
Societal challenge with the LUDI project
Connected coastal area
Participatory Science
Zero-carbon territory
Opendata
A 4D database
Opendata
Web services
Spatio-temporal/interdisciplinary geographic information system
Interoperability
FAIR
Education
Various scientific themes
Maritime Geography
Ecology
Geodesy
Water Quality
Litttoral dynamics
Ecotoxicology
Image analysis
Sea level
Wave transmission
An innovative pedagogy
can be installed on PAMELI.
The acquired data are recorded and saved on board the drone in a temporary database, before validation, transfer and archiving in a multidisciplinary database on land. The goal is to build over time a comprehensive and long-lasting spatio-temporal information system promoting the development of interdisciplinary research.
One of the stated objectives of the project is to be part of the long-term monitoring of our coasts imposed in particular by the context of current climate change, with a return to society, through interoperability of the database with other observation systems and the establishment of web services accessible to scientists but also to socio-economic actors. The city of La Rochelle and its university are committed to the development of a connected and zero carbon territory and the PAMELi project fits perfectly into this philosophy.
At the University of La Rochelle, the PAMELi project is supported by the LIENSs laboratory and we worked with the DT-INSU in Brest for the instrumentation of the drone. We are also working in coordination with the L3I laboratory (Computer Science, Image and Interactions Laboratory) which is also working on the development of marine drones (Jetskin), mainly from the point of view of computing, piloting, artificial intelligence and telecommunications.
The educational dimension of the project towards higher education, but also secondary education, is developed within the framework of the DroneEduc project (LRU with support from the Nouvelle Aquitaine Region) and the Argonautica program (CNES).